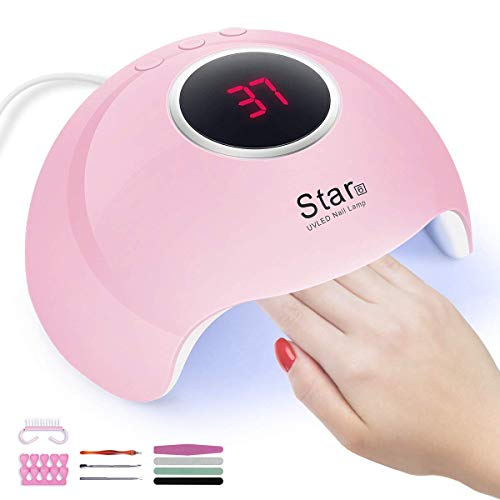 Giovar Portable UV Nail Polish Curing Lamps, LED Gel Nail Dryer 24W with 4 Timer Setting, Auto Senor For Gel Nails and Toe Nail Curing
JOVS
What we're looking for
anyone interested
Product details
PROFESSIONAL AND CURING ALMOST ALL NAIL GELS - LED gels, UV gels, including Hard Gels, buildings, sculpture gel, gem glue etc..No brand requirements though. Easy to use, just plug in and you are ready to go! SMART AUTO SENSING - Put the fingernail or toenail into curing lamp and will automatic lighting 99 second, or 3 timing setting 30s/60s/90s. Let's enjoy nail art at anytime and anywhere! SAFE & HARMLESS - Its light is closer to white light, has no harm to eyes and skin.Say goodbye to outdated single UV lamps causing troubles with blackened hands PORTABLE DESIGN - The top of the pad can be replaced for a different refreshing colour. Use pearl paint surface, texture upscale is difficult to scratch but easier to keep clean. If nail polish accidentally drupes on a surface, it is easy to clean it out WARRANTY - Giovar nail dryer provides 12 Months Friendly Customer Service at any times. During warranty, if there is any product issues, we offer free replacement.Customer satisfaction is our first target.
Product link
https://www.rebatest.com/Product/ProductDetails/29976.html?melody=1&rebatestid=1795
Want to enter this campaign?
Offered by Giovar Portable UV Nail Polish Curing Lamps, LED Gel Nail Dryer 24W with 4 Timer Setting, Auto Senor For Gel Nails and Toe Nail Curing
Deliverable
Instagrammers will post to their feed:
1 time
Usernames to @mention:
@rebatest_official
Hashtags to #mention:
N/A
Accounts to tag in Photo:
@rebatest_official
Notes
N/A